Deli & Catering
ORGANIC GOURMET SANDWICHES, SOUP (seasonal), & SMALL DISHES. Freshly made from our seasonal local produce and artisan products. Great pairings and ingredients.
PICNIC BASKETS FOR YOUR APT OR CAMPING ADVENTURE. CALL 608-628-1001. WE WILL HAVE IT READY FOR YOU! Your design from platters, to sandwiches, or full dinners.
NEW: Italian Pressed Picnic Sandwich for 4! Whole sourdough loaf filled with specialty meats, cheeses, veggies and sauces. Call ahead!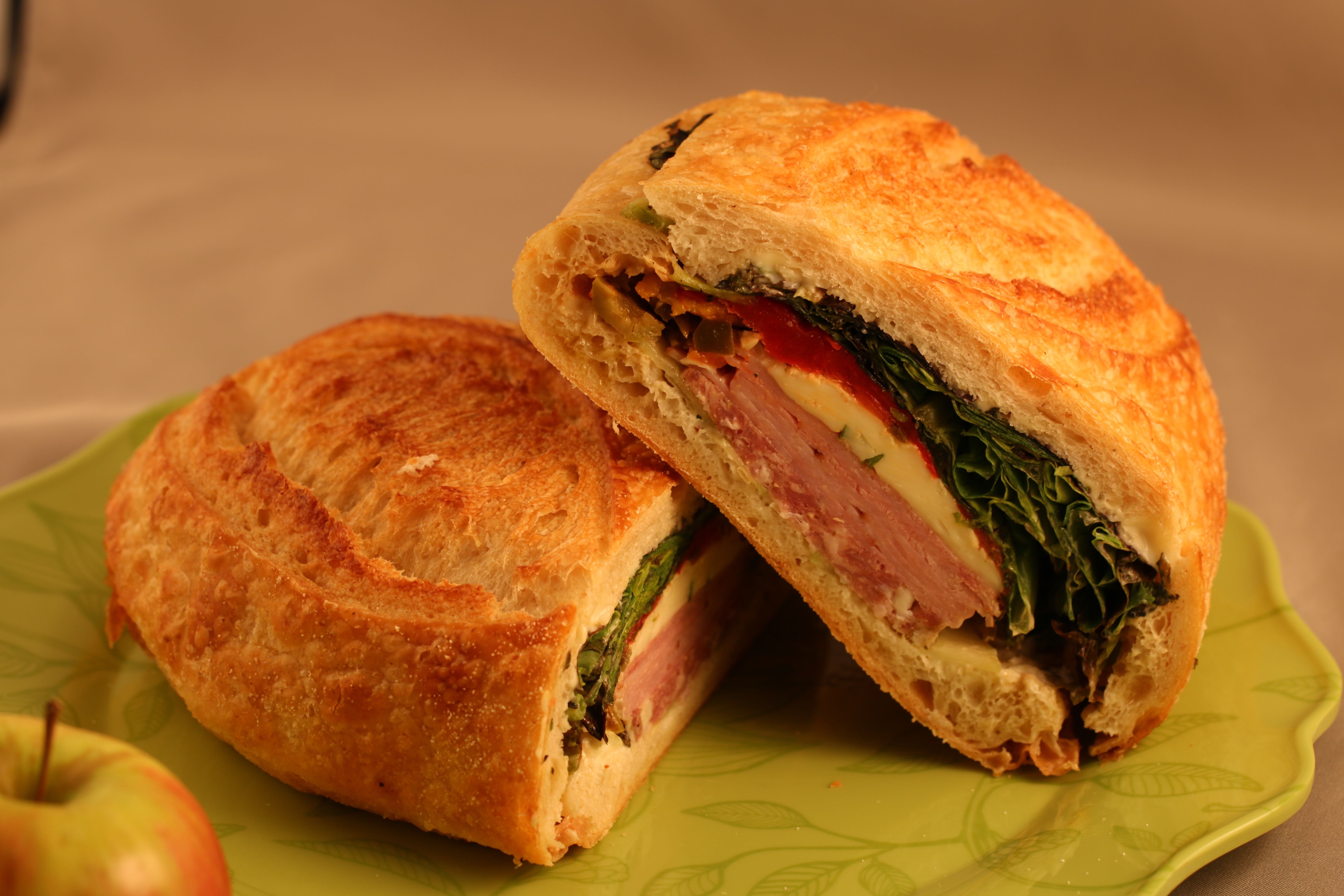 ELEGANT PARTY PLATTERS FOR YOUR BUSINESS OR HOME GET TOGETHER. UNIQUE INGREDIENTS AND COMPOSITIONS TAILORED FOR YOU. Make your gatherings special! Holidays are just around the corner.
ARTISAN MADE WI & INTERNATIONAL CHEESES, OLIVES, SAUSAGES, BAGUETTES, AND MORE!
APPETIZERS; ANTIPASTO PLATTERS "HERE OR TO GO"; WINE, MICROBREWS
FRIDAY'S 5-7pm–FRESH TROUT DINNER  (CALL FOR RESERVATIONS BY THURS 10AM) 
Always carry Pleasant Ridge Reserve Cheese by Uplands.
**See our Trout Dinner featured in Isthmus Magazine. Click here to download the article.
CATERING AND CUSTOM DINNERS AVAILABLE FOR "TAKE OUT" OR SERVED IN THE CAFE.  Please call ahead to plan your event.  By 9am  for large sandwich orders. 24 hours for take out dinners and 48 hours for service in the cafe.
Stop by or call us to see what's in season today!
Artisans cheeses and sausages;
Marinated artichokes;
Grilled eggplant;
Cerignola olives;
Mixed bistro blend olives including Kalamata;
Wisconsin and international cheeses: Pleasant Ridge Reserve;  Dunbarton WI Goat; Belmont WI Camembert and Brie; Donnay Goat soft cheese with beautiful rind; goat cheddar and mozarella; WI Chevre; Spanish Manchego; English T&T Silton; Apricots and Silton;
European Homemade Sausages: polish, hungarian, slovenian, hunter, brats, smoked and fresh;
Hickory smoked bacon slab or sliced;
Custom picnic baskets; sandwiches; antipasto plates;
Organic Chicken roasted for pick up! Call ahead, 608-628-1001;